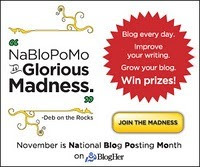 I recall vividly when my son was born. I was so anxious about caring for him & knowing what to do & being a good mother.
I am the youngest in my family & was really never around children as I grew up. They were somewhat foreign to me. Later in adulthood a few friends had babies & young children & I always felt a little unsure around them. I certainly never did anything (like holding someone's baby) without them offering. And so I can so clearly remember the moment it dawned on me that my son was MINE. And the fact that I could hold him & kiss him without needing anyone's permission. That was quite a moment & I was all alone with my son when that monent happened. It will always be a very special memory for me.
Another special memory: when I asked my nurse if I could walk to the nursery & get my son. As the words "my son" came out of my mouth it was surprising & exciting at the same time.
Amd I recall in the early days when hubby would call him "son" I kept thinking he was referring to my stepson. I had received a lot of rejection from my stepkids & some of my inlaws in the past & somehow I had expected that rejection to be passed on to my own son & it was shocking to me that it wasnt, especially in those early days.
And I remember those early days were soooo tough. I couldnt get ANY sleep. Ive always been the type of person that can handle anything, but let me get a good night's sleep first. And I can skimp on sleep occasionally even, but in those early days it just goes on & on with no end in sight. Of course add to that the fact that my son had colic & it really made for a miserable time.
I remember I kept asking people "it gets better, right?" & no one ever gave me a "yes". Of course it did get better. Around the 4th month things started to settle down, the colic oassed & he even started to sometimes sleep thru the night.
I also found the fact that it was the first 3 months of parenting that I found toughest. 3 months has always been significant for me. I remember the first 3 months of my marriage were rough, it was a much bigger adjustment than I had expected. 3 months is always the length of time it takes for my body to fully respond to a particular workout. 3 months is the official full length of time your body needs to recover after childbirth. I know theres been other significant 3 month windows in my life, I just cant recall them at the moment. Ive also even seen a book about surviving the first 90 days of marriage. When I saw that I was excited to realize Im not the only one with the "3 month" windows in my life. :)
So to sum it all up: when a new parent asks you if its gonna get better, be sure to tell them YES. :)