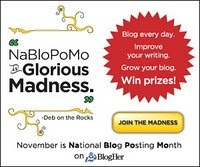 Far too many of us are guilty of the sin of unthankfulness.
God, in His great mercy & love, reached out to us & gave us spiritual life (Eph 2:1-5). He forgave us our sins through the death of His Son & covered us with the spotless righteousness of Jesus Himself.
Yet how often do we give thanks for our slavaton? And if you have given thanks, was it in a mere nomimal way, much like some people give thanks at a meal, or was it an expression of heartfelt gratitude for what God has done for you in Christ?
The truth is, our whole lives should be lives of continual thanksgiving. Every breath we draw is a gift from God. Everything we are & everything we have is a gift from Him.
Beware lest you say in your heart, "My power & the might of my hand have gotten me this wealth". You shall remeber the Lord your God, for it is He who gives you power to get wealth.
Do you ever physcially or mentally go through your house, look at your furnishings & various items of home decoration, & say to God, "Everything in the house & the food in the cupboard & the car (or cars) in the driveway are gifts from You. Thank You for Your gracious & generous provision"?
When you give thanks at mealtime, is it routine & perfunctory, or is it a heartfelt expression of your gratitude to God for His continual provision of all your physical needs?
Taking for granted all the temporal provisions & spiritual blessings that God has so richly bestowed on us, & so failing to continually give Him thanks, is one of our "acceptable" sins.
Giving thanks to God is not just a nice thing to do--it is the moral will of God. And if, as Jesus so clearly stated, loving God with all our heart, soul, & mind is the great & first commandment, then failure to give thanks to God as a habit of life is a violation of the greatest commandment.
In Romans 1:18-32 Paul writes, "Although they knew God, they did not honor Him as God or give thanks to Him, but they became futile in their thinking, & their foolish hearts were darkened".
So their ever-increasing wickedness actually began with their ungodliness (failure to honor God as God).
Unthankfulness is a serious matter.
We may be more guility because as believers we should know better. Part of our obedience is giving thanks to God always & for everything.
So we should give thanks always & for everything. We should espeically give thanks when we have experienced an unusual provision from God or deliverance from some difficult circumstance.
Life is full of events that delay us, inconvencience us, or obstruct or block some plan or ours. In the midst of these events, we should fight against anxiety & frustration. But when God does bring relief, or when we see Him deliver us from the possibility of such an event, we should make it a special point to give Him thanks.
So the question is, "Are we to give God thanks when the circumstances do not turn out as we had hoped?" The answer is YES, but for a different reason. In 1 Thes 5:1 Paul writes "Give thanks in all circumstances; for this is the will of God in Christ Jesus for you".
Paul is exhorting us to develp a habit of
continual
thanksgiving for all the blessings God so graciously pours out on us.
Is Paul asking us to give thanks through gritted teeth by sheer willpower when in our heart of hearts we are truly disappointed? The answer to the question lies in the promises of God found in Rom 8:28-29 & 38-39.
God directs the outcome of those circumstances for our good. God intends all our circumstances, both good & bad, especially the bad, to be instruments of sanctification, of growing us more & more into the likeness of Jesus.
We are to give God thanks that He will use the situation in some way to develop our Christian character. Nothing, including the situation we are in, can separte us from the love of God. First, by faith we believe God is using or will use the particular difficulty to conform us more to Jesus. Second, we have the assurance that even in the midst of the difficulty we are enveloped in God's love.
The giving of thanks in a disappointing or difficult situaton is always to be done by faith in the promises of God. It is not a matter of doing it by sheer willpower. If we do that, we are giving thanks with our lips but not with our hears.
We should seek to develop the habit of continually giving thanks to God. Thank Him for our salvation & for the opportunities we have for spiritual growth & ministry. Thank Him frequently for the abundance of material blessings He has provided. By faith thank Him for what He is doing in the circumstances to transform us more & more into the likeness of His Son.
Memorize Eph 5:20 & 1 Thes 5:18
To help us honestly confront the subtle sins we tolerate in our own lives so that we will tend to walk more humbly before God & with respect to the unbelievers tward whom we may be so judgmental. Prayerfully examine our hearts & lives before God, asking Him to show us our own subtle sins.
God does want to work in you & with you to deal with your sins, but He does so as your Father, not your Judge.
These are excerpts from "Respectable Sins" by Jerry Bridges